As an Italian researcher, I find is incredibly useful to be able to import from our national catalog; therefore, I am trying to optimize the filter so as to conduct operations as seamlessly as possible.
I provide an example:
The book to be imported is as follows: ICCU record for
Fuori cornice: l'arte oltre l'arte
.
https://opac.sbn.it/risultati-ricerca-a ... 3A%40or%40
Hence the result via Bookends: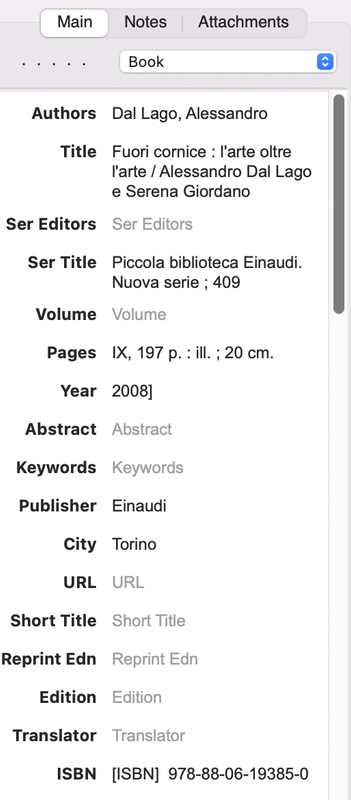 I am quite satisfied with the outcome but there are some things I would like to tweak, although I am not clear how:
1)
Title
: the part after the slash "/" is unnecessary. It is like that for every record and I would like to tell BE to ignore everything from the slash (included) onwards.
2) Put the
series number
in the space provided below, not in the series title (maybe remove the ";" too)
3) Take only the
number of pages
, and not other physical indications (such as measurements)
4) There is an
abstract
in the original record (listed as "Sommario,abstract") but I cannot fetch it through the importer.. Why?
5)
ISBN
: again, is it possible to remove the "[ISBN]" before the actual number?
How can I edit all these things, is it possible?
Thank you very much.