Features
Reference management entails the collection, annotation, curation, and citation of published information. This is exactly what Bookends does. If there is a feature that you think a reference management app should have, Bookends probably does.
Online Search
Online Search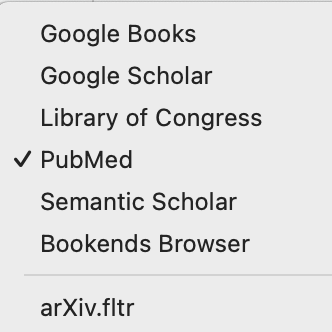 Bookends comes with hundreds of built-in searches, and you can add your own for many more university and institutional libraries around the world.
Import references, often with their associated PDFs. References already in your possession are highlighted to avoid duplication.
Bookends Browser
Bookends Browser can be used as a standalone window or integrated with your reference library to navigate to web sites containing the full text or PDF of the references you seek. Data detectors identify and alert you to unique reference identifiers (e.g., DOIs), allowing you to import them and their PDFs right from the browser.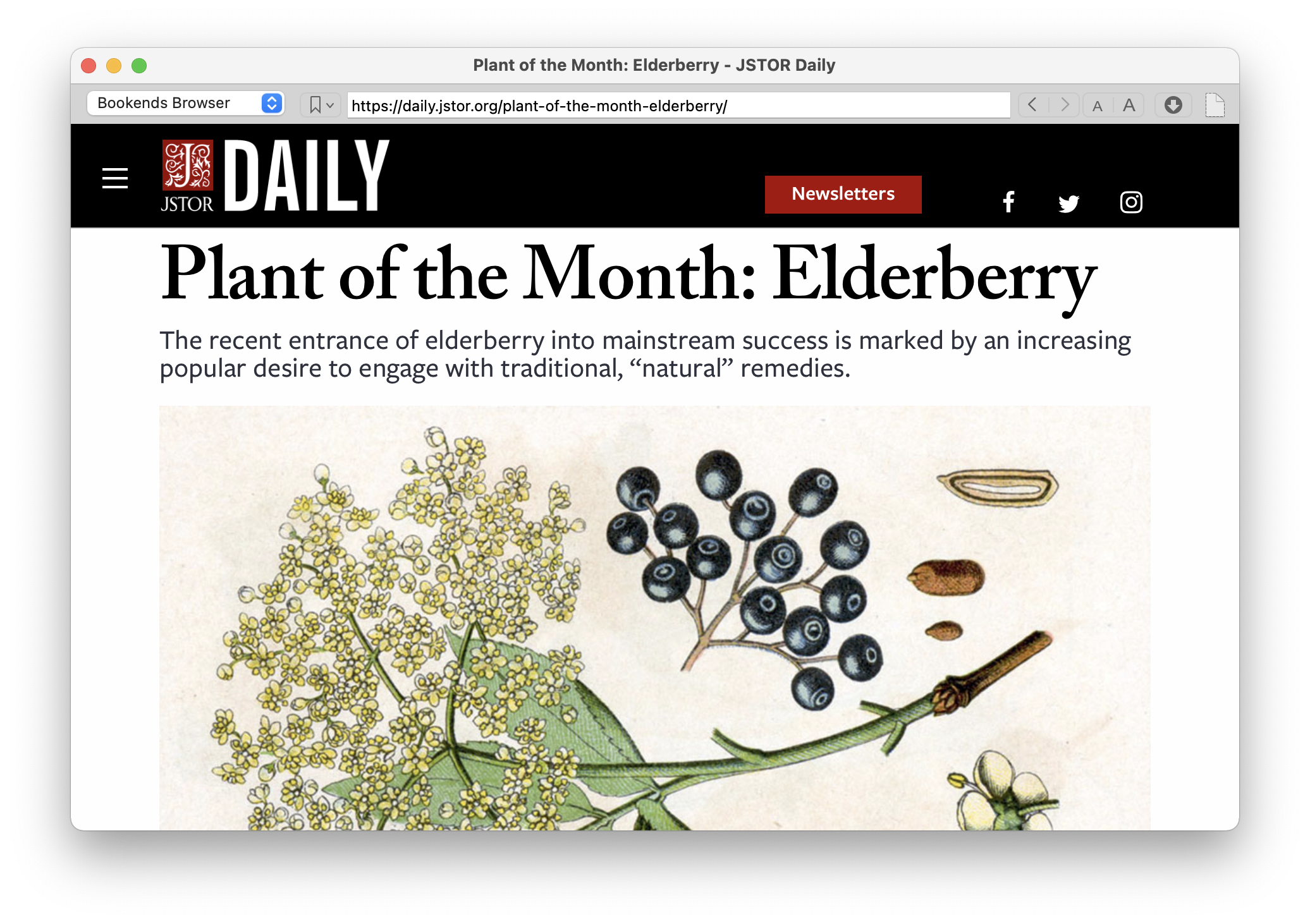 And if Bookends can't locate the PDF automatically, any PDF you can navigate to, and any page you visit, can be downloaded and attached to the corresponding reference.
Tag Clouds
A dynamic bird's eye of your references
Tag clouds are an unprecedented way to survey, analyze, understand, and filter your references They provide a dynamically-generated visual overview of the most important names and words used in your collection.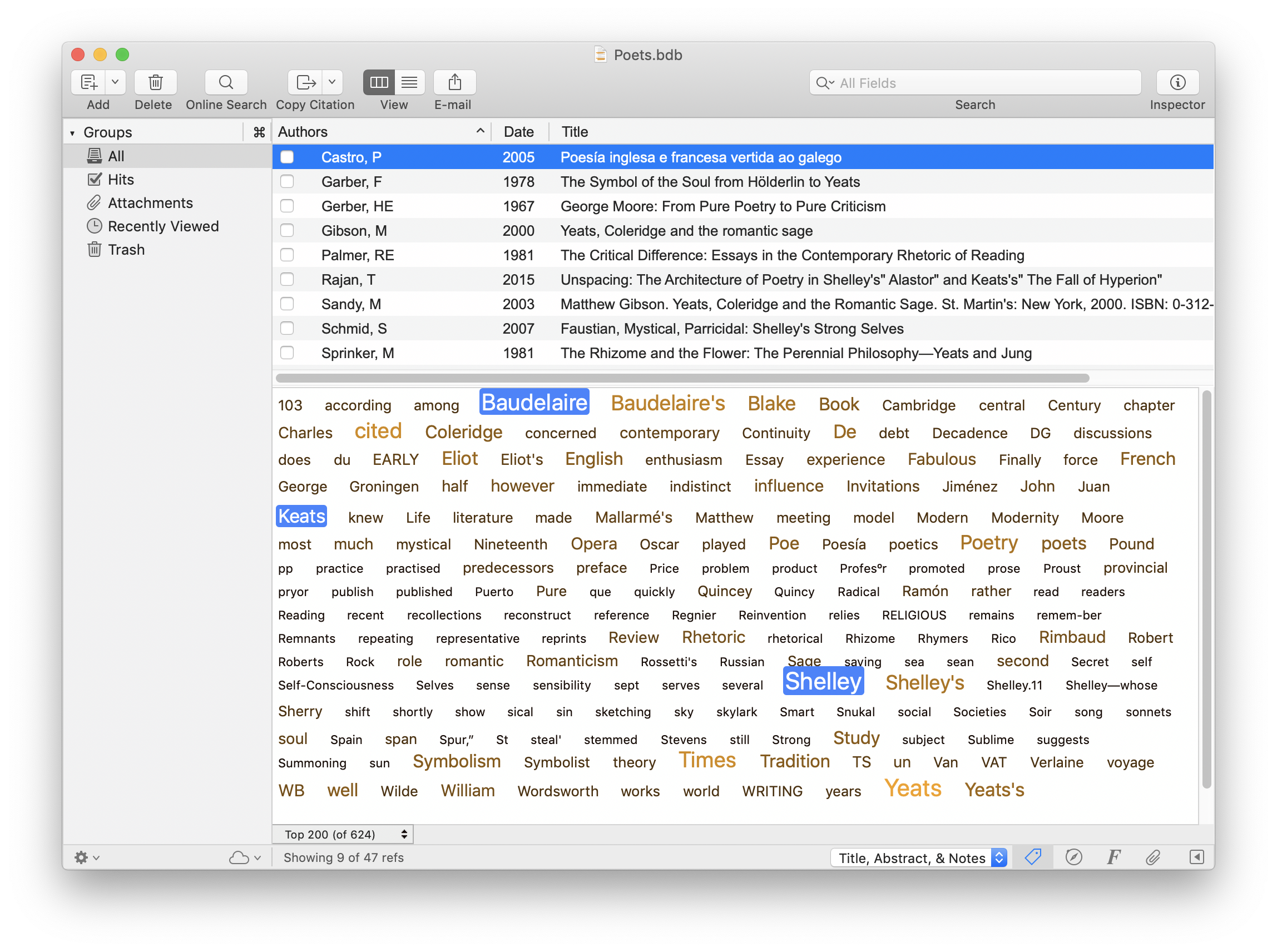 Select one or more terms to drill down through the references to find just the one you want. Merge related tags into a single metatag – for example, "Poets" might instantly return references about "Yeats", "Shelley", and "Baudelaire".
Groups and Folders
Groups are a speciality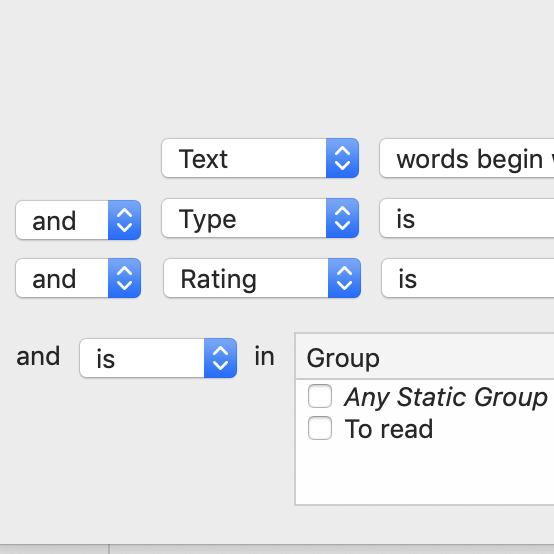 Static groups comprise references you have actively added and are great for maintaining specific collections (e.g., the references you are gathering for a paper). Smart groups are different, performing searches using criteria you specify, and the results are dynamically regenerated every time the group is used. Use our comprehensive built-in template or design your own searches. Virtual groups result from selecting groups in combination, providing yet another way to find the information you need.
A level playing field
Folders are a handy way to organize groups with similar themes or purposes. You can nest folders within other folders, with no limit. And folders are not just for show – select one to find all or just the shared references in the groups it contains.
PDFs
Read it and smile
Bookends is a PDF reader with a twist — it knows that PDFs belong to references and integrates their content. It also puts helpful annotating and processing options for any text you select text at your fingertips.
Automatically create annotations, notes, and deep links from selections

and have them appear in the interactive note stream.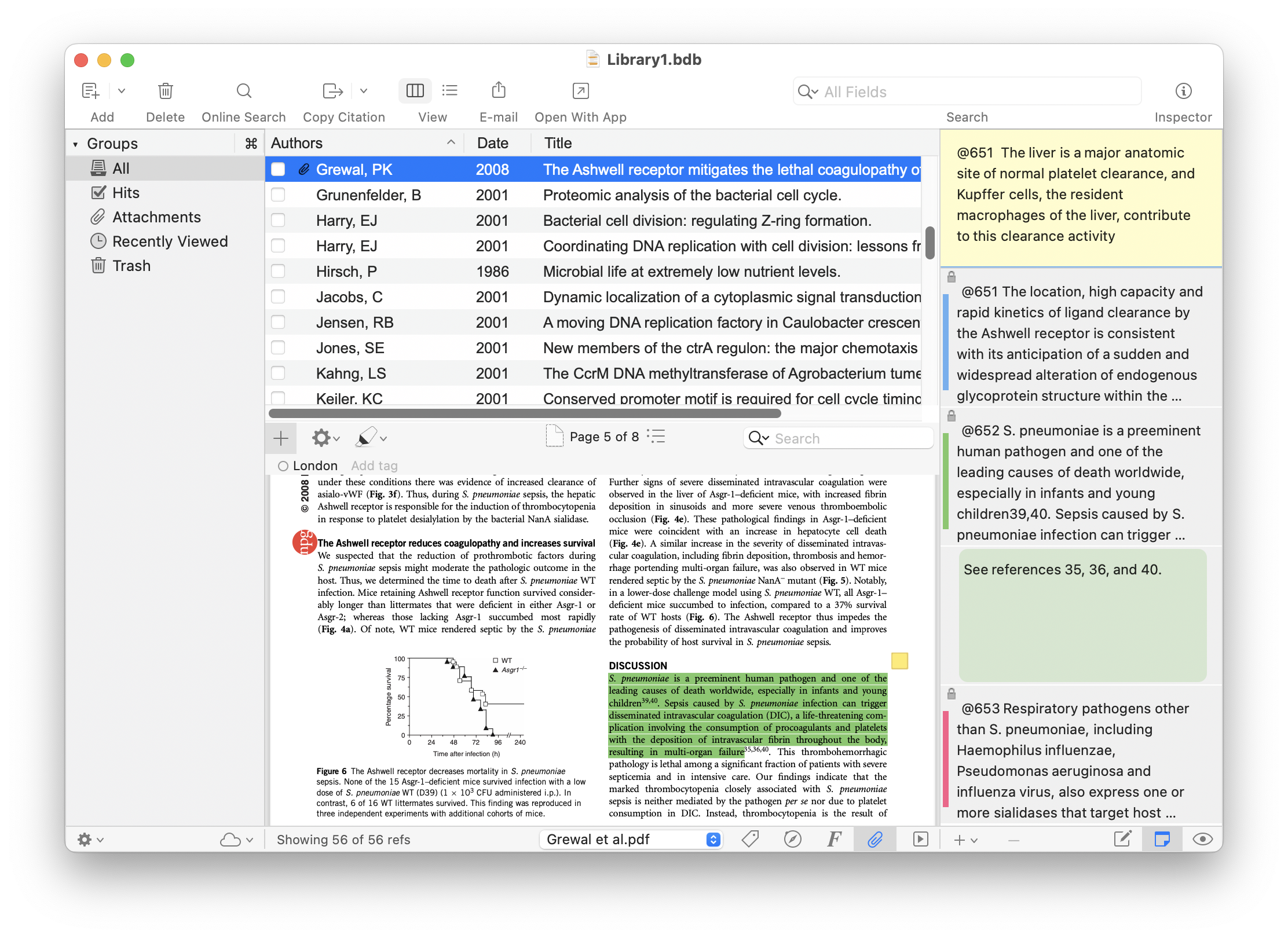 You can even import the selection as editable text.
And if you want to collect your insightful annotations in one place, you can do that, too.
Floating Citations
You've got a friend
Say you're in the middle of writing a paper, and you want to look up a reference, consult the attached PDF, and insert the temporary citation. With Bookends floating citations you can do just that — without ever leaving your word processor or lifting your fingers from the keyboard. Simply double tap the customizable trigger key, and the floating citation window will appear above the document. This works in any application.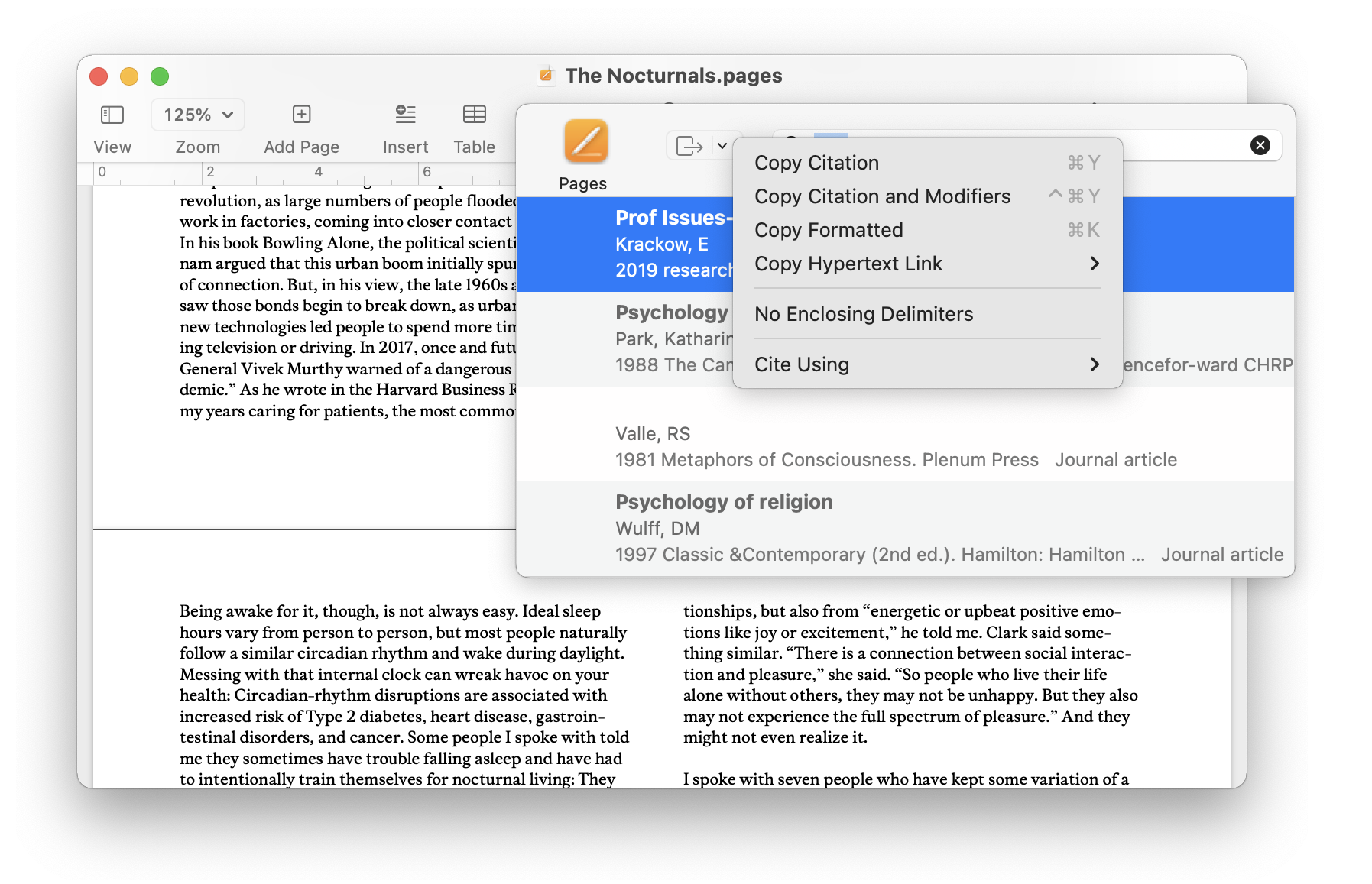 When you've completed your paper, Bookends can generate bibliographies from these temporary citations.
Sync
Synchronicity
Bookends (for Mac and iOS) uploads your references to iCloud, from where the can be synced with your libraries on any device. Bookends performs an "atomic" sync, meaning that just the the small amount of data that has been added or changed since the last sync will be uploaded/downloaded. As a result sync is a very fast, and there are no worries about database corruption. Even if you use only one Mac, cloud sync provides instantaneous backup to distant servers in case anything happens to your local copy.
Invite your Bookends-using colleages to share libraries. Everyone in the group can update (with permission) and use the common reference and PDF pool, making collaboration just that much easier.
Scan
Roll your own
Your published in-text citations, footnotes, and bibliographies must be just so. Bookends ships hundreds of predefined formats for this purpose, but what if your publisher wants a variant on a theme? Or you need a special format for you own design? The Formats Manager lets you tweak, alter, or create an infinite number of styles with instant feedback as you "flip the switches and turn the dials."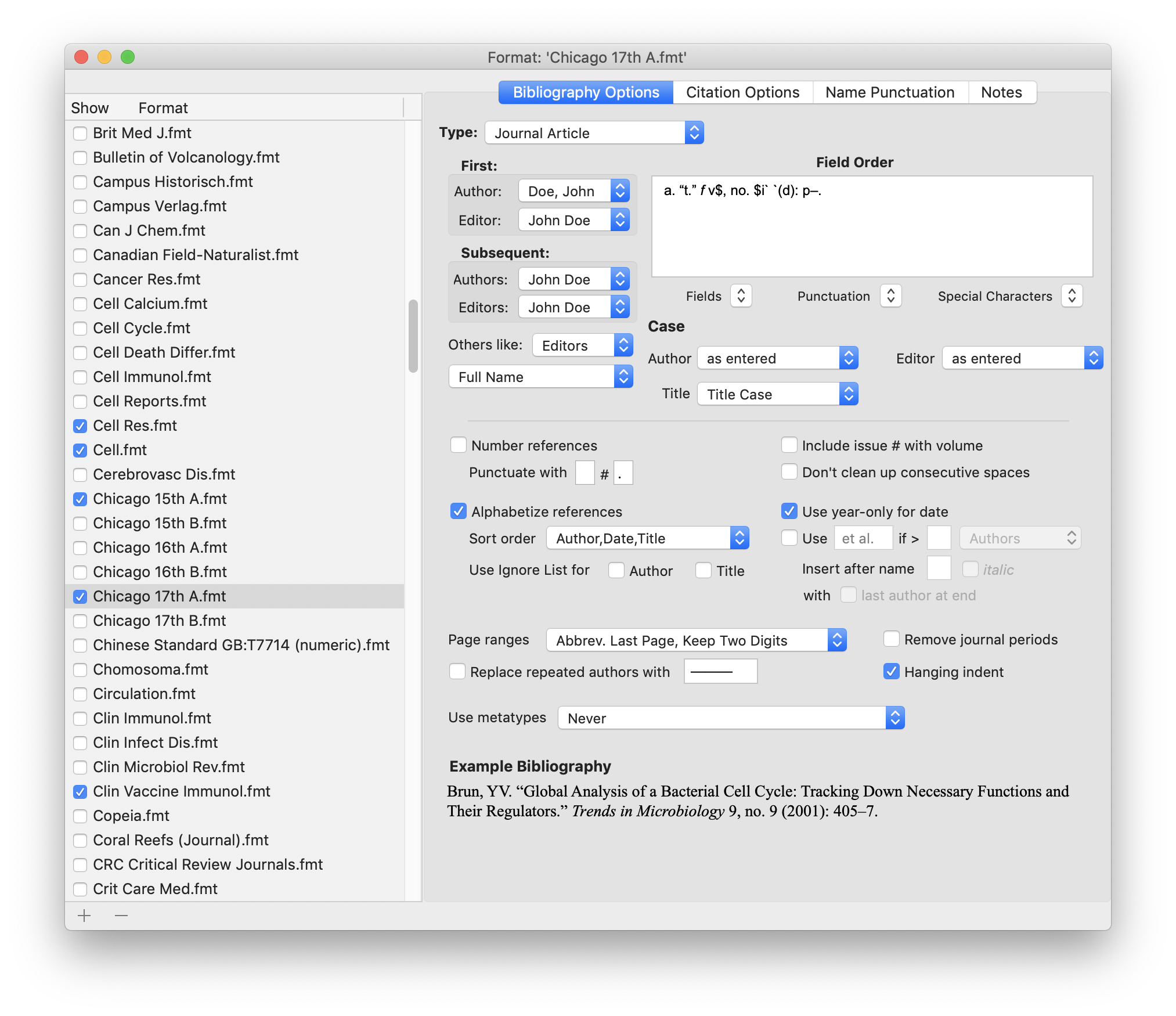 Putting it all together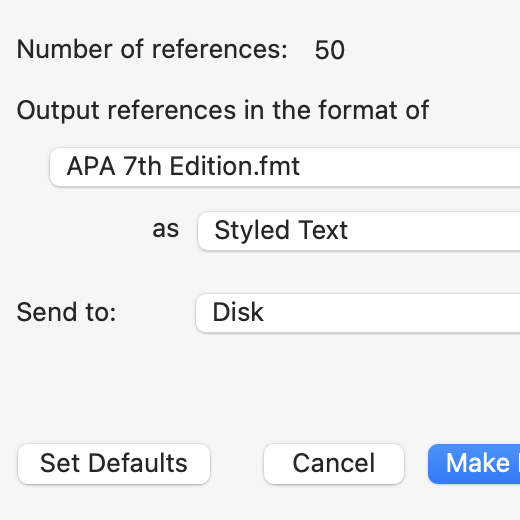 The last step before submitting your manuscript is finalizing citations, and here Bookends does the heavy lifting. Bookends will scan the document to replace temporary citations with their publishable forms, generating a polished version with full in-text citations, footnotes, and bibliographies that meet the most exacting requirements.
Subject bibliographies are created with equal ease.
Bookends comes with hundreds of pre-defined formats that create the final output, and you can easily edit these or create your own to meet special needs.