Bookends for iOS User Guide
Bookends for iOS (here called just Bookends unless a distinction with Bookends for Mac must be made) is reference management software for your iPad and iPhone. You can use it as a standalone app, or pair it with Bookends for Mac, syncing the contents of your mobile and desktop devices via Wi-Fi or Apple's iCloud Drive.
Overview
In-app purchases
An unregistered version of Bookends for iOS is limited in the following ways: searches return a maximum of 20 references, only 50 references can be stored in your local database, PDFs that you annotate on the iOS device are watermarked, and you will see ads. To have full access without these restrictions and no ads you must purchase the Standard Version from within the app ("in-app purchase").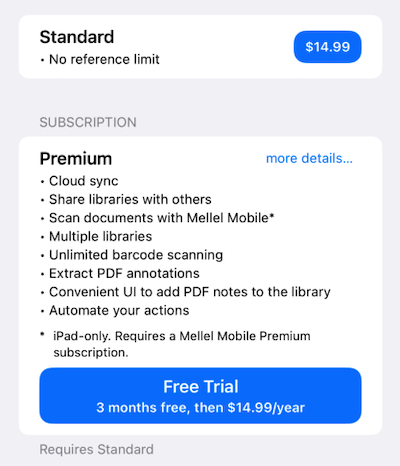 In addition, Bookends has an option for Pro Features Yearly, which at this time means Cloud Sync, multi-library support, unlimited barcode scanning (details below), and convenient UI for adding PDF notes and notecards. This can be bought with an in-app purchase as a yearly-renewable subscription. The subscription can be auto-renewable, and can be managed in iOS → Settings → iTunes & App Store → Subscriptions. The subscription might renew if it isn't canceled more than 24 hours before the renewal date.
A few terms…
Bookends creates a library on your iOS device that contains references (or reference metadata, meaning details about the works such as the author, place of publication, etc.) and, optionally, attachments such as PDFs.
References can be entered added to your library in three ways:
Manually.

Internet search and import.

Sync with Bookends on the Mac.
Each reference has a Type that identifies the kind of publication. The default Types are:
Artwork

Audiovisual material

Book

Book Chapter

Conference proceedings

Dissertation

Edited book

Editorial

In press

Journal article

Letter

Map

Newspaper article

Patent

Personal communication

Review

Internet

Unused (through Unused20)
Many of the fields in the Unused range will have other labels, depending on the Type, such as Edition, Translator, ISSN/ISBN, DOI, PMID, and others appropriate for particular Types.
The Types correspond to those in Bookends, and can be changed in Bookends only by syncing with Bookends. The factory default Type is Journal Article, but you can change this in Settings.
You can organize your references into groups that you name and can quickly recall. Static groups contain references that you explicitly add. Smart groups contain references that meet criteria you specify (such as a word in the title, a keyword, a specific author, a date of publication, or all of the above), and the contents can change dynamically as references are added, deleted, or edited.
Each group must have a unique name.
Syncing libraries
You can sync Bookends for iOS in two ways. Wi-Fi, which comes with the Standard purchase, lets you sync Bookends for iOS with Bookends for Mac. Cloud Sync, which requires the Standard and Pro Features purchases, lets you sync with Bookends for Mac and other iOS devices. Details of how they work and how to set them up are here: Cloud Sync and Wi-Fi Sync.
Multi-library support
Tapping on the top right button ("…") will show a menu with actions. "Switch Local Library" should be used to change your current library to any that already exist, to create a new local library, or to download a new library from the cloud.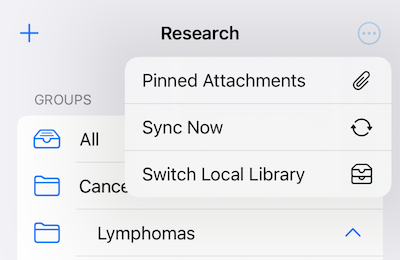 Multi-screen support for iPad
iPadOS multitasking: Split View or Stage Manager on supported devices.
Here is an example of Safari displayed next to Bookends: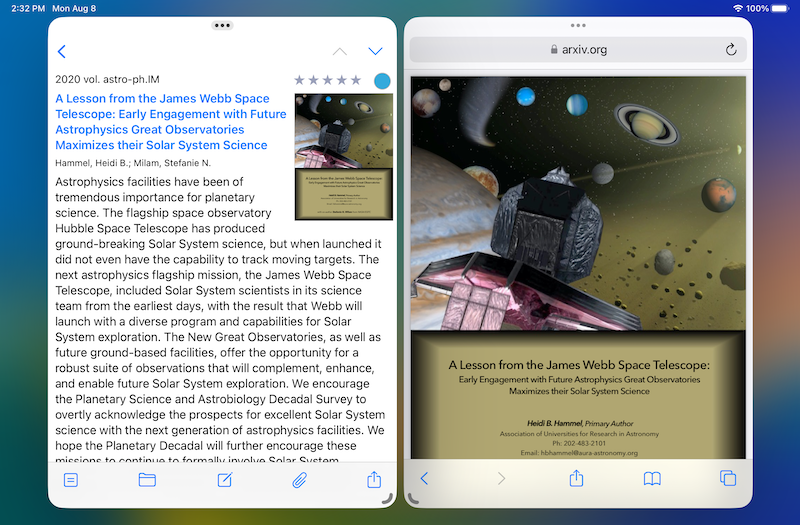 References
Display
References are viewed in two ways: in a list or in a reference view. Note that for the iPad, if the orientation is horizontal you must tap the Library button at the top left to see the reference list. You can add additional fields to include in the reference view in Settings.
List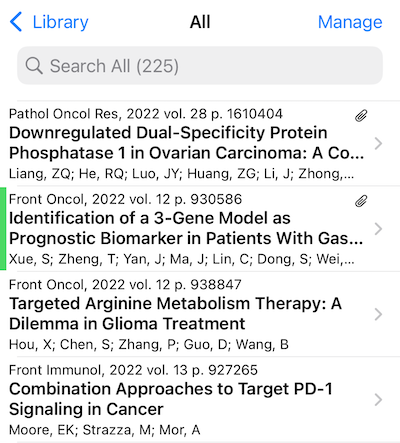 A summary of the metadata for each reference is listed. If the reference has color label it will appear as a colored vertical bar to the left of the reference. A (tappable) small paper clip appears on the right if the reference has one or more attachments.

To see the reference view, tap on the reference. To bypass the reference display and see the attachment on the right, tap on the paper clip (if available).
Tap the Manage button when you want an operation to be performed in batch, that is, on more than one selection at a time. Batch operations include deleting, organizing groups, sharing, and setting rating or color.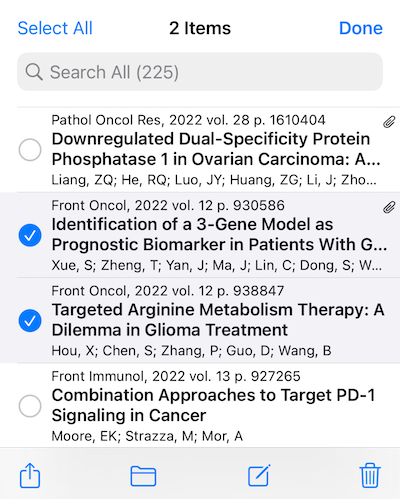 Reference view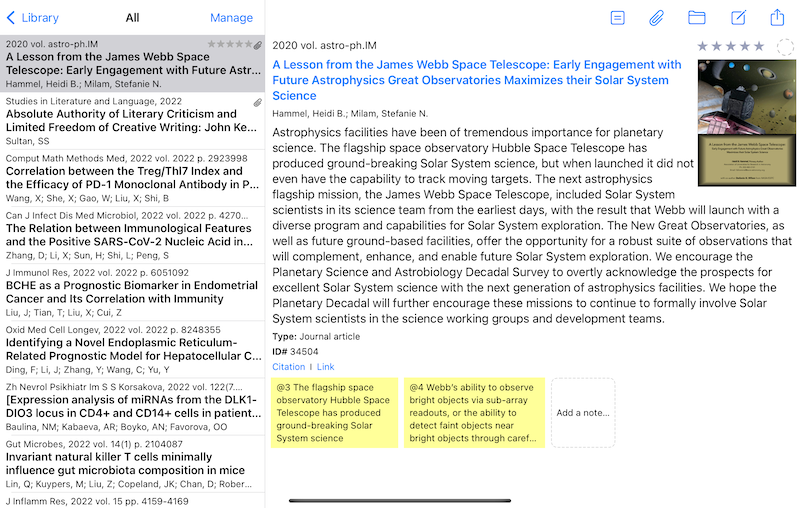 The reference view lets you quickly access ratings, thumbnails of attached PDFs, and notes (notecards, shown in a note stream). Tap on the rating bullets/stars to add/edit the rating.
Notecards are shown in yellow, and sync with Bookends notecards. Tap and hold on any note to enter the editing mode for all notes at once. Text in the Notes field that is separated with 2 new lines will be split into separate notecards.
Learn more about using the note stream.
At the bottom of the abstract you may see tappable links to the on-line reference (e.g. a PMID or DOI).
PDFs
Tap on the PDF thumbnail to show the enlarged (normal) view of the PDF.
If you tap on the attachment icon (the paper clip), you will be able to annotate the PDF, show the table of contents, and search for text in the PDF. Here is an example of the options you have when annotating: highlight, strikethrough, underline, add text, comment, draw, and others. Please note that PDF Note, Notecard, and Quote is a part of convenient UI for adding PDF notes and notecards and requires the Pro Features Yearly subscription.

Search
Tap in the search field to find specific references in the list. You can limit searches to Title, Abstract, Author, Keyword, or All (All means Bookends will search all of these fields). Searches are case-insensitive.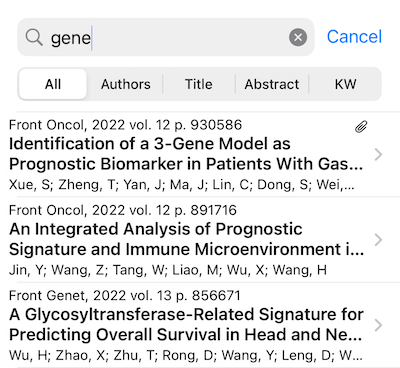 If your library is very large, searches can take seconds, which makes the live search unwieldy. To disable live search, start the search text with a space. The search will not being until you tap the Search button. For example, search for
" einstein"
(without the quote marks).
Author searches distinguish between first names and surname by the presence or absence of a comma:
"E Jones" or "Jones, E"
Note that if you search for the initial of the first name, all authors with first names beginning with that letter will be found.
Citations
Citations can be created from the reference view via the 'Citation' button or the Share menu (marked red in the screenshot). Tap on the kind of citation you want: temporary (to be used by Bookends for Mac when scanning) or final. You can paste the copied citation into other apps, such as Word, Pages, or Mellel. Tap the top example to copy the temporary citation and the bottom to copy the final citation.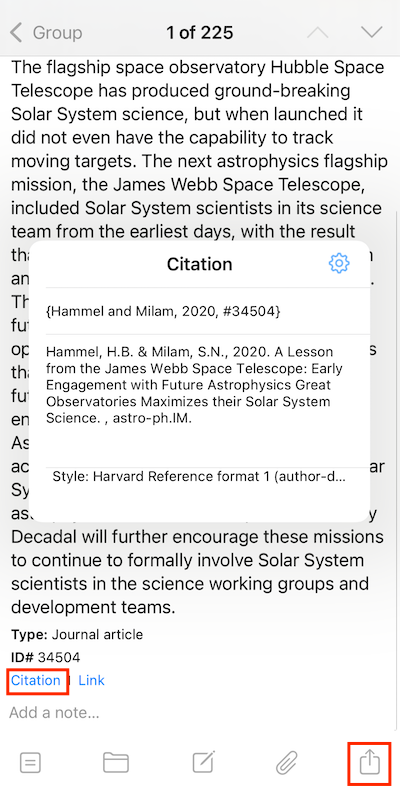 Also the citation can be copied directly from the reference list by a long press on the reference cell.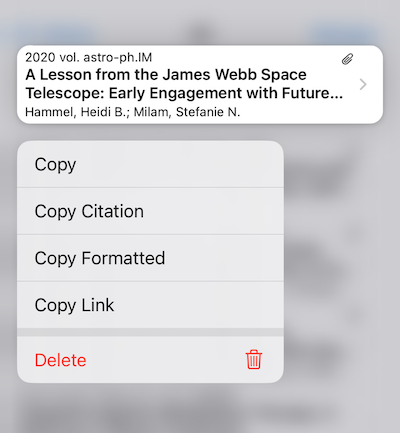 You can select the citation format you want to use, and the delimiter for temporary citations in Settings. A default citation style can be chosen from the styles list.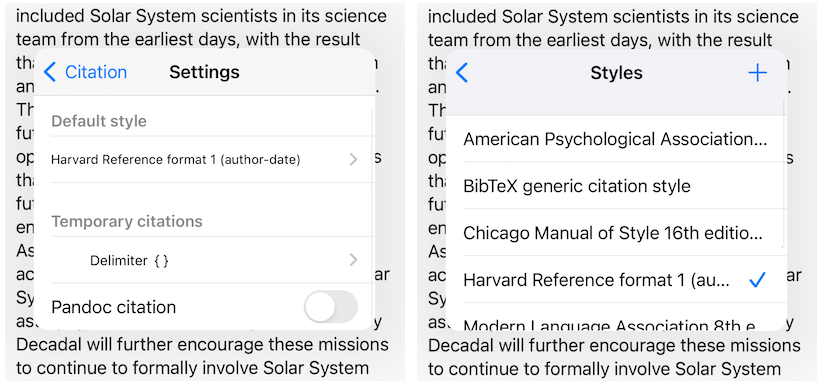 Tap on the "+" button to add more citation styles to the list. The Zotero Style Repository web page will be shown where you can tap on any style. The first tap on the style name will show a formatted example. Tap on the style name again and Bookends will ask you if you want to import this style.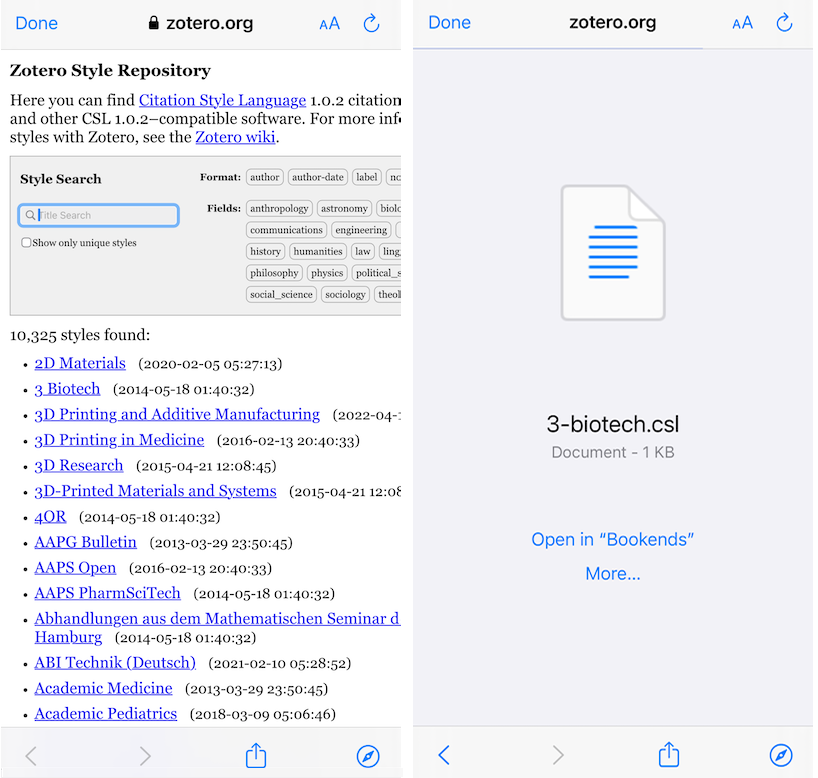 CSL files, which contain the formatting instructions, can be imported from external sources like Safari or an email. You can email a CSL file to yourself and after tapping on it, iOS will offer to open it in Bookends.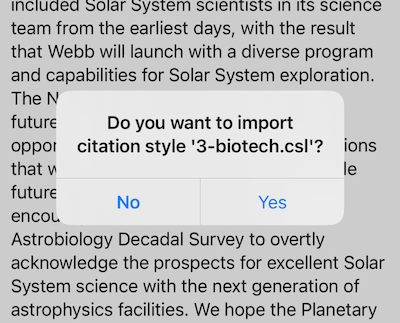 Library Toolbar
Regardless of which iOS device you are using, there will be a toolbar that lets you work with the reference.

If the reference has a link to the article on the Web, tap this icon to open the browser view and access the Internet content. If you have access privileges, navigate to the PDF of the article (if available) and the paper clip icon (Download PDF) will become enabled.
Tap the Import icon to import the reference (and PDF, if you downloaded it) into your personal library.
Neither the PDF nor the reference metadata will be imported to your library unless you tap the Import icon.
You can import to a specific group by tapping the Organize button. A list of static groups will appear, and you can choose the one to which the new reference will be added. Organize Groups lets you add or remove the reference from you static groups (including Trash). You cannot remove a reference from the group All (except by moving it to the Trash).
Tap Attachments to see the contents of attached files (typically PDFs). The image is disabled if the reference has no attachments. The PDF will open in full screen.
Tap the Share button to send the reference to one of several destinations via the Share sheet. Also you can generate a citation or copy a link to the reference.
Shared text can be formatted for readability or tagged for importing into reference management apps—configure this in Settings. You'll have the option of sending attachments as well.
Tap the edit icon to allow manual editing of the reference's contents. This is covered in the section Adding References and Groups Manually.
Adding References and Groups Manually
To add items on the iOS device, use the + button. You can also add items by syncing with Bookends (see below).
The + Button
Tap this button to manually add references or groups to your Bookends library.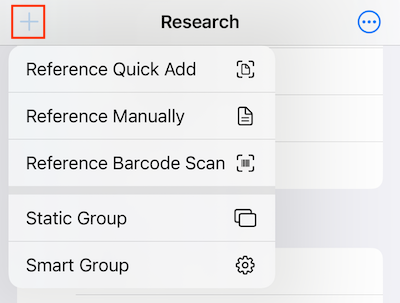 Reference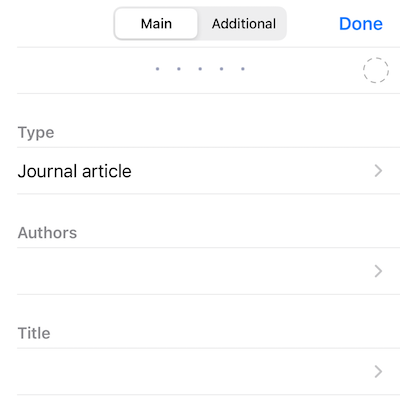 You can assign a rating of 1-5 stars, apply color labels, set the reference Type, and add information to the fields that constitute a reference. Note that name fields (e.g. Authors) ask you to enter each name one at a time. To ensure that the names sort correctly, they must be entered surname first, separated with a comma:
Hutchinson, RJ

Edgars, Susan

Wright Simons,

MM, Jr.
If you sync with Bookends, you may find that institutional names end in a comma:
The American Council on Diet, Health, and Fitness,
This ensures that Bookends will not try to parse the name when it creates a bibliography.
You can manage attachments, typically pdfs, here. Tap on the name of an attachment and you'll see an option to Rename or Delete it from your library.
Static Group
You will be prompted for the name of a static group. Adding and removing references from static groups is discussed below.
You can edit the name of the static group by a long press on the group cell.
Smart Group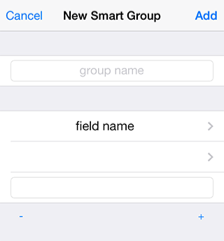 Once you have entered a name for the new smart group, you must enter the criteria that Bookends will use to search for members of the group. Fill in the search options (field name, conditional operator, and the text). The conditional operators are:
contains

does not contain

is

is not

starts with

ends with
Here is an example entry: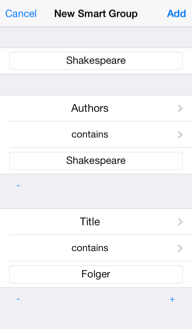 You can edit the name of the smart group and change search criteria by a long press on the group cell.
Quick Add from Internet and Barcode Scan
Enter a DOI or ISBN to search for these, or tap the camera icon to scan a barcode (requires Pro Features in-app purchase or else you can scan only one book per day). If the reference metadata is found online it will be displayed in the results section. Tap on the import icon to import the reference into the library. After import the reference will be displayed for editing. You can tap Done to end this session or tap the back arrow to perform another Autofill.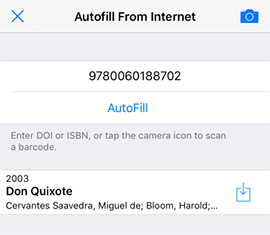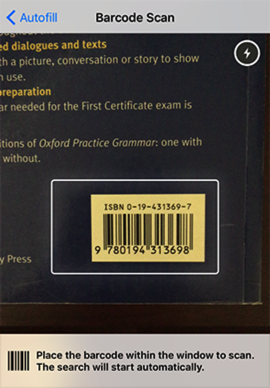 Export/Import Attachments
Bookends has built-in PDF annotation. If you prefer another app for this purpose, Bookends lets you export PDFs to other apps such as PDF Expert, PDF Viewer, GoodReader, etc., where they can be read, annotated, and then exported back to Bookends. The PDF file can be moved between apps via the Share button.
In Bookends, the Share button appears above a PDF you're reading. When you tap on the Share icon you will be given the opportunity to email the PDF, open it in another app that handles PDFs, or print it.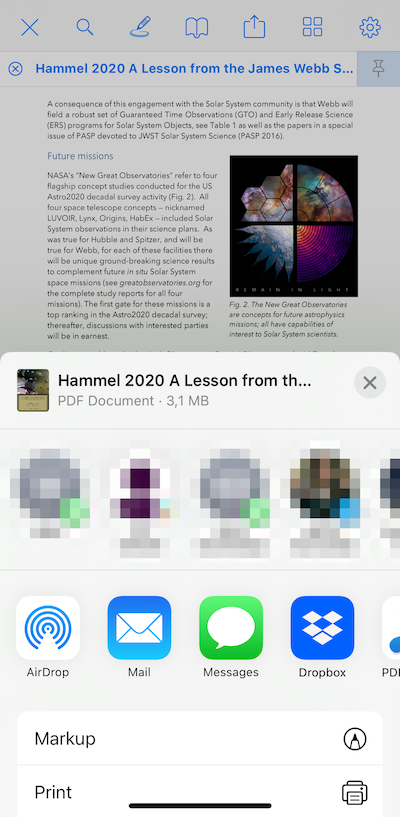 If you send the PDF back to Bookends, you will be asked if you want to attach it and be offered the best matching reference. Usually, that will be a reference with a PDF of the same name. However, the PDF may have been renamed by the annotation software, or it could be a PDF that had never been in a Bookends library. If Bookends has identified the correct reference, tap on the "best matching reference" to replace the older PDF with the newer one. If the annotation app changed the name of the PDF, you can rename it to the original and Bookends will replace the old with the new. You will be offered these choices: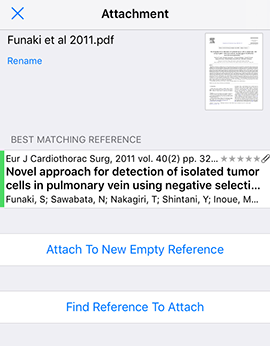 If it's a new file, Bookends will allow autofilling of reference metadata if the PDF contains a DOI. You can also attach the PDF to another reference or a new reference.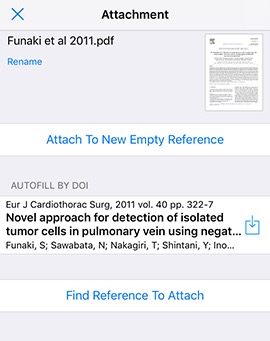 You can import RIS files (containing reference information) exported from any other app (e.g. Safari, Mail, etc.). Here's an example of an RIS file being exported from Safari Downloads folder into Bookends: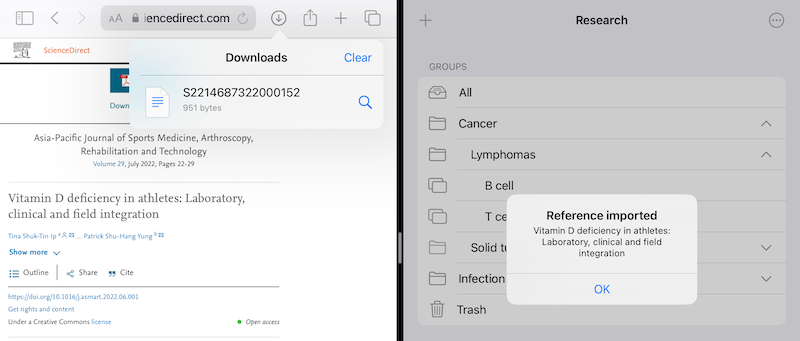 Removing references from the library
You can delete references from the list in a few ways:
Swipe to the left and tap the Delete button. You can also quickly swipe left over a single reference to delete it.

Tap Manage, select the references you want to delete, and tap the Bin button.

The reference can be deleted directly from the reference list by a long press on the reference cell.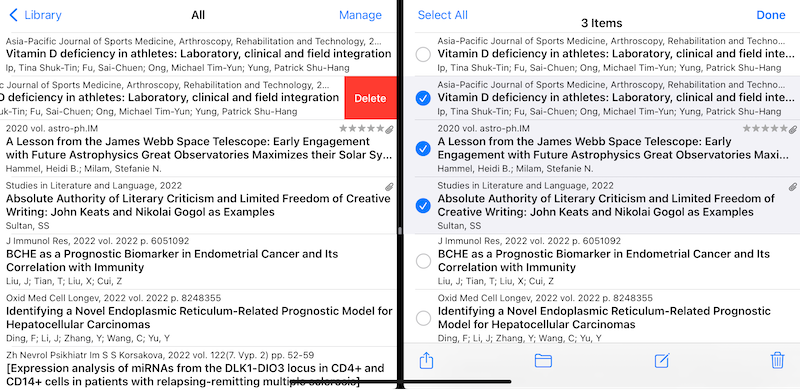 When you delete a reference it is not actually removed from the library, it is placed in the Trash. You can tap on the Trash icon at any time and rescue or permanently delete any references it contains.
Groups
Organize related references
Bookends lets you organize related references into logical groups. The relationships may be arbitrary (e.g. a static group of references used for a particular paper) or thematic (e.g. a smart goupr of references dealing with a particular subject).
Using Static Groups
There are two built-in static groups that you cannot alter: All and Trash.
Tap on All to see a list of all references in your library.
Tap on Trash to see any references you deleted. You can remove the reference from the Trash or permanently remove it from your library.
Any static groups that you have created (or imported from Bookends) will appear in this list.
Using Smart Groups
There are three built-in smart groups: Authors, Attachments, and Last Modified.
Tap on Authors to see a sorted list of each author found in the library. Tap on a name to see a list of all references authored by that person.
Tap Attachments to see a list of all references that have one or more attachments.
Last Modified shows the last 25 references that have been added or edited. This includes references added or changed because of a sync with Bookends.
Any smart groups that you have created (or imported from Bookends for Mac) will appear in this list.
Note that the smart groups created in Bookends for iOS are not recognized by such in Bookends for Mac and vice versa. As a result, when smart groups are imported from Bookends for Mac they become static groups in Bookends for iOS. However, the group members may change when next synced with Bookends for iOS if the members have changed in Bookends for Mac. Smart groups imported from Bookends will have a different 'gear in circle' icon.
Sorting Group Contents
You can sort the contents of a group by tapping the Manage button. At the top of the screen is the field the groups are sorted by (in the example, Date Added). You can change the sorted field by tapping it: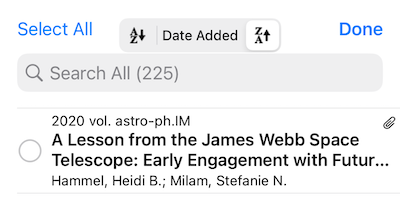 The direction of the sort (ascending or descending) is shown next to the name of the field, and you can change from one to the other by tapping.
Online Search
Acquiring references from online sources
You can search for references in PubMed, Google Scholar, Google Books, JSTOR, Web of Science (requires ip authentication), arXiv, Amazon, Semantic Scholar, and the Library of Congress. All searches provide a simple search option: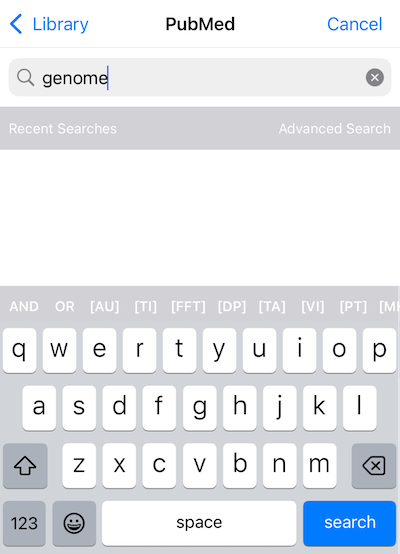 Tap on Advanced Search (PubMed and Google Scholar) to construct a boolean (and, or, not) search and restrict the results by date of publication, publication type, the availability of full text, etc.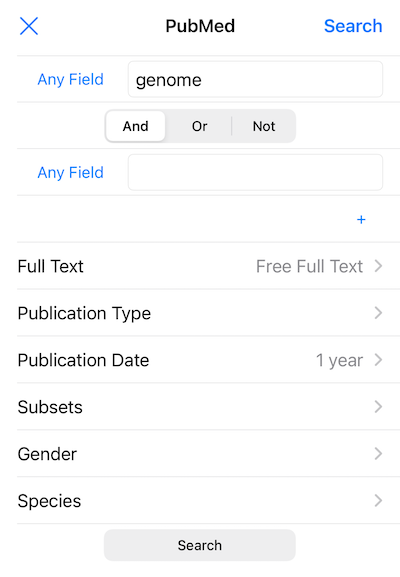 The maximum number of results returned for each search is configurable in Settings (20, 40, or 60). If there are more hits than that, you'll see a message at the bottom of the found references like this: "Get Next 20 References".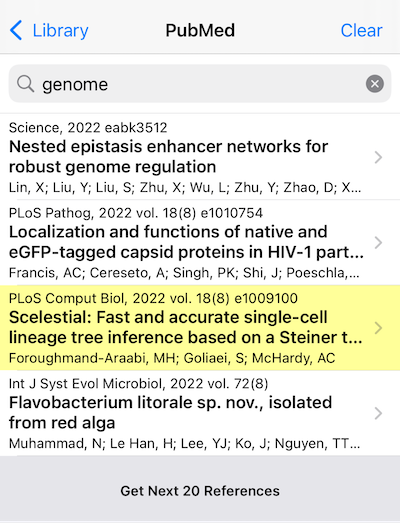 If you find a reference that you have already imported into your own library, it will be displayed in yellow.
Bookends will display a badge that tells you if the article on PubMed is linked to the full text (HTML or a pdf), and if the full text is available for viewing at no cost (Free Full Text). Note that this information is supplied by PubMed and in some cases is incorrect.
arXiv Searches
Use the fast typing bar to create advanced search queries that include boolean operators (AND, OR, NOT), specific arXiv searchable fields tags (ti, au, abs, co, etc.), and/or limit your searches by subject by choosing any from the list of available subjects by tapping on "cat:all".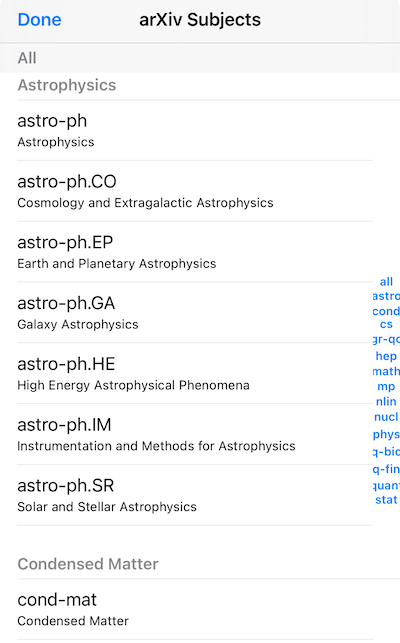 Use parentheses '( )' to group boolean expressions and quote marks to search for an exact phrase.
Here is an example of advanced search for an article with the words atom and physics in the Title, and authored by Friedman: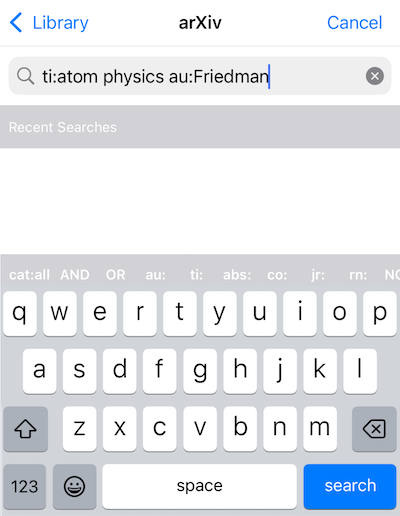 It's not necessary to add 'AND' between tags, the previous example returns the same result as: ti:atom physics AND au:Friedman.
Google Scholar Advanced Search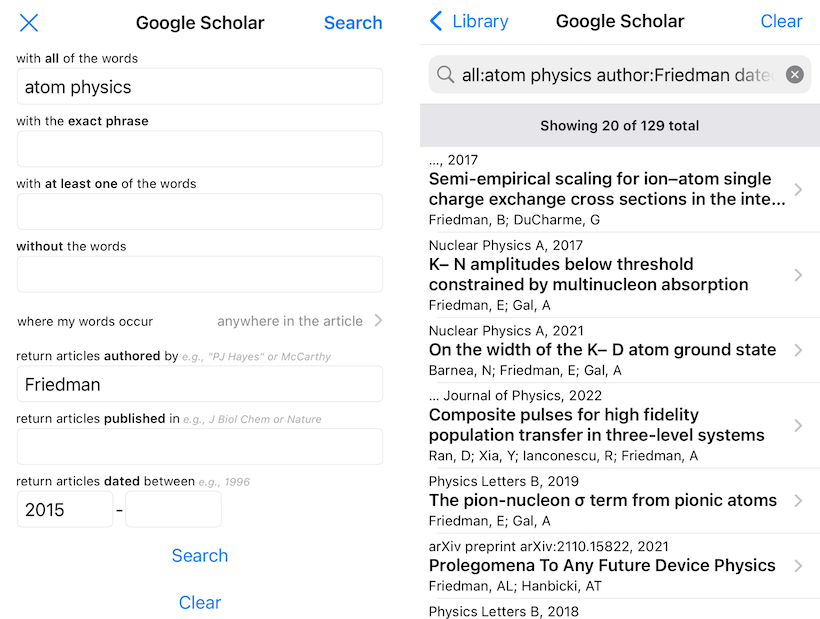 Settings
Manage your environment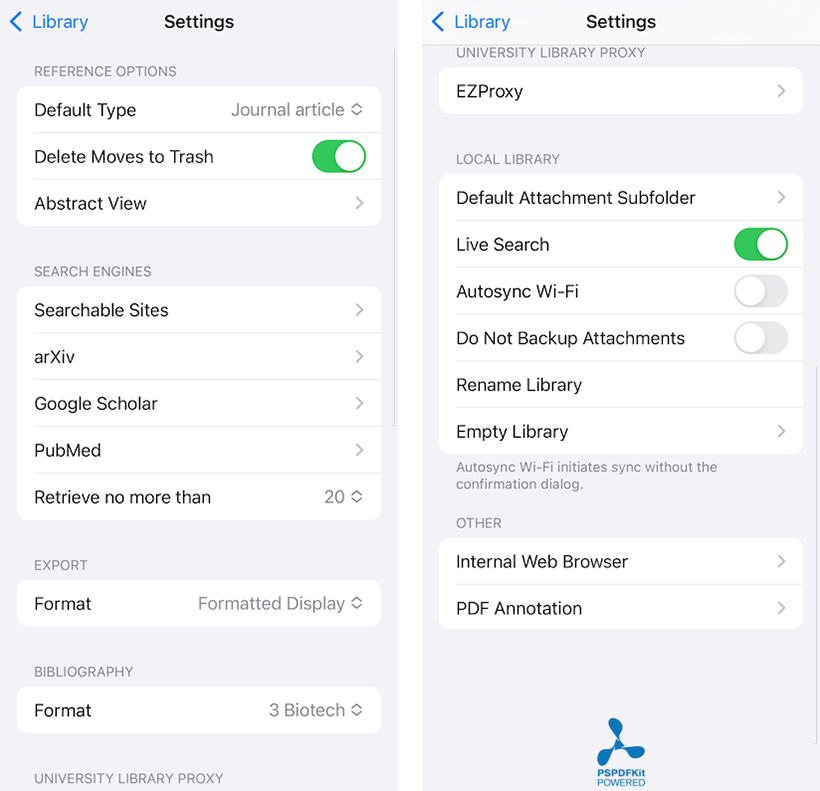 Reference Options
Set the default reference Type for manually-created references or imported references whose Type cannot be determined.
If "Delete moves to Trash" is off, a deleted reference will be removed from the library immediately. If it is on, the reference will be moved to the Trash, from which it can be later recovered or permanently deleted.
You can add fields that are shown in the abstract view: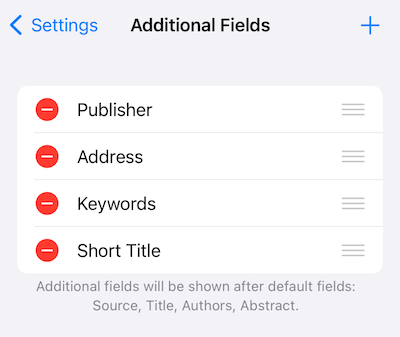 Tap + to add a field. Tap - to remove a field. You cannot remove the default fields Source, Title, Authors, or Abstract.
Drag the three-bar icon on the right to change the order in which the addition fields are shown.
Search Engines
Searchable sites shows a list of all the search engines Bookends supports, and you can choose which ones you want shown (for example, if you work in the humanities, there may be no need to show PubMed). You can also reorder the list shown in Bookends dragging the three-bar icon on the right.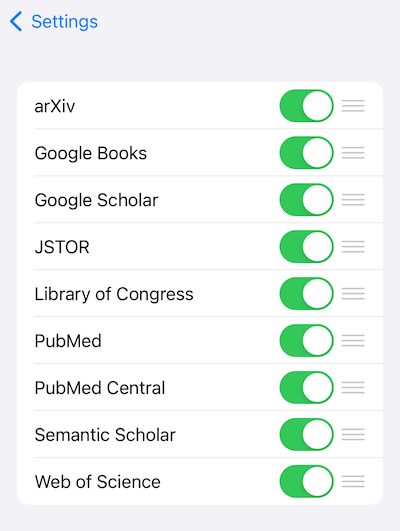 In the PubMed settings, indicate if Bookends should check for full text, and how the returned list of references should be sorted (by date of addition to PubMed or date of publication).
The number of references to retrieve with each pass (20, 40, or 60).
Export Options
You can tell Bookends to arrange the text for sharing in a human readable form, bibliography format, or modified RIS (which can be imported into other reference management apps using their RIS filters).
University Library Proxy
Bookends supports the popular EZProxy web proxy server used by many university libraries. If yours is one of them, you can enter the URL of the proxy server (you may need to contact IT support to supply this). The URL is entered like this example:
http://ezproxy.princeton.edu/login?url=%@
Bookends will replace the %@ with the URL of the web sites you use.
Local Library
If your library is very large, you may want to disable Live Search to avoid the delay that occurs whenever you enter a letter. If you disable Live Search, the search will only be performed when you press the Return key.Empty Library will remove all references, groups, and attachments from your library. This should be used with caution and cannot be undone.
Autosync applies to Wi-Fi sync, not cloud sync. When Autosync is ON, Bookends for iOS syncs to Bookends for Mac without waiting for the confirm dialog in Bookends. If you have Autosync enabled and want to change options in the confirm dialog (e.g. to sync particular groups rather than all references), turn Autosync OFF. After changing the settings in the Bookends confirm dialog and performing a sync, you can enable Autosync again in Bookends for iOS.
Do Not Backup Attachments is used only for attachments stored locally, not for attachments that are synced to the iCloud folder during Cloud Sync. If you have a large number of attachments and don't want them being backed up by the system, turn this setting ON. Note that if you choose Do Not Back Up Attachments, on restoring your device from backup your attachments will be missing and should be downloaded from Bookends for Mac.
Empty Library removes all data and attachments from the library in use and removes the attachments from the device. Attachments in the iCloud Drive folder (synced) will be undisturbed.
Other
The Internal Web Browser setting allows you to switch between the Internal Web Browser and the native Safari View Controller. The Safari View Controller includes Safari features such as Reader, AutoFill, Fraudulent Website Detection, and content blocking, but PDFs will not be automatically detected and attached to the current reference.